March 8, 2021 · Posted in
champion
·
Comments Off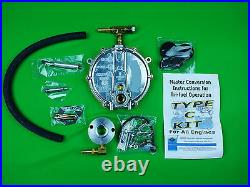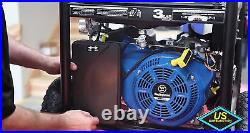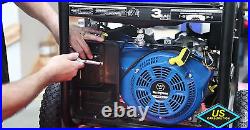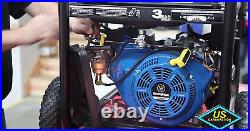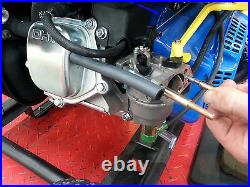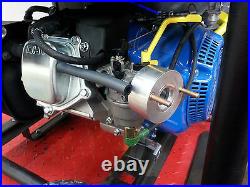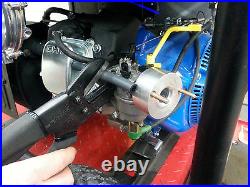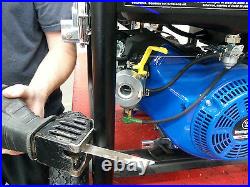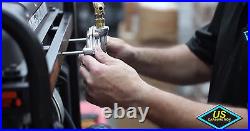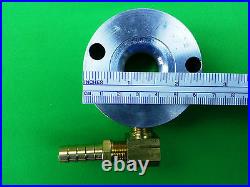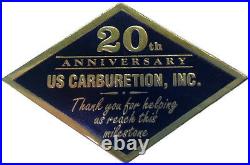 US CARBURETION CLASSIC TRI-FUEL ADAPTER. Please note: The revolutionary design of our newly patented Motor Snorkel (05/2013) has rendered these products inferior. The MotorSnorkel eliminates cutting the frame, adding stud extenders to the carburetor, cutting and extending the crankcase line, etc. Because of these reasons most customers no longer want this type of propane and natural gas conversion kit, system or component. ITEM: Tri-Fuel Propane Natural Gas and Gasoline Kit for LARGER Champion Type Engines ITEM NUMBER: K9104 SPECIFICATIONS: See pictures for measurements and see listing below for engines and equipment Most used on GX360 359cc and GX390 389cc engines QUANTITY: 1. This kit has all the basic parts necessary to convert your generator to a tri-fuel generator (propane, natural-gas, gasoline) additional fuel lines and connection fittings, hoses, etc. Will be necessary to connect this basic kit to your desired fuel source. We do maintain a complete list of generators and engines on our Motor Snorkel or USCARB generator conversion kit websites. We have a 20 year record of outstanding customer service. This Tri-fuel conversion kit will take your gas powered Honda generator to the next level. The kit is designed to work with the Champion series and Chinese Honda Clone carburetors (mostly single cylinder 12 and 13 horsepower). The center to center is apx. 2-1/8 and the studs are offset at the 10 o'clock and 4 o'clock positions. The included instructions and supplies will allow you to modify your current ENGINE or GENERATOR to use propane, natural gas or gasoline. Given the tendency of gasoline to go bad or gum up the generator, having this option gives you great versatility. First, it can be used on the Champion engine it was designed for and on natural gas and propane. Of course, the gasoline option still is functional, however some carburetors will have a gasoline bowl vent that will be covered by the adapter which will not allow the engine to run properly on gasoline without first removing the adapter. This is just another reason why the Motor Snorkel system is superior since it never has to be removed. We do not recommend or condone any alterations or misuse of our systems due ot safety issues. However, many people have used this adapter experimenting with different fuels like hydrogen, methane and biogas. (View USCarburetion Videos on YouTube) The engine regulator in the kit can handle from 4 to 14 water column inlet pressure. Please follow the detailed instructions included with the conversion kit so this should not be an issue. Please see our other listings for the 12′ Propane Cylinder Hose Connection Kit to run your generator off of 20# to 100# propane cylinders… K9104 Kit Can fit the following. 41532 Chonda 7000w 14hp. The item "Champion Kohler Propane LP Natural Gas Generator Snorkel Tri Fuel Conversion Kit" is in sale since Wednesday, October 8, 2014. This item is in the category "Home & Garden\Yard, Garden & Outdoor Living\Outdoor Power Equipment\Generators". The seller is "uscarburetion" and is located in Summersville, West Virginia. This item can be shipped worldwide.
Model: Type C Kit
Type: Power Generator
MPN: Does Not Apply
Brand: US Carburetion
Horsepower: 11-13HP
Generator Type: Portable
March 8, 2021 · Posted in
truck
·
Comments Off
March 8, 2021 · Posted in
honda
·
Comments Off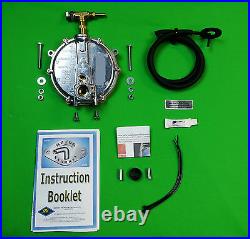 THE SIMPLEST KIT ON EARTH! The ONLY US Patented Honda EU3000 Tri-Fuel Kit! All Snorkel's are Made in the USA. M A J O R B E N E F I T S: FULL POWER ON PROPANE AND NATURAL GAS!!!!!!!!!!! NO ADAPTER so it EASILY FITS RIGHT IN THE CABINET No cutting of any OEM hoses! Switch back and forth all you want and still use the gasoline choke. We are the EXPERTS that know all about alternative fuel and have proved it by developing a product that was never invented in over 100 years of carburetion technology! Our company holds numerous US patents, and we most recently received a patent for the revolutionary new Motor Snorkel, a simple looking but technically advanced device which allows for a standard gasoline powered generator to also use propane or natural gas in addition to gasoline. Our research and development team continues to bring new and innovative products to market and all the while focusing on generators, carburetion and related technologies. If you want to connect your EU3000i to the propane system on your CAMPER, Motor Home, or other RV, we can provide quick disconnects and other brass fittings to help you out. ITEM: Honda EU3000i Engine Type Tri-Fuel Propane Natural Gas Gasoline Kit ITEM NUMBER: MSK3103 SPECIFICATIONS: Includes "STAND-OFF ACCESSORY PACK" to allow the regulator to mount to the engine access door (see pictures). QUANTITY: 1 Kit Please note: The picture represents the basic contents of the EU3000i Tri-Fuel kit. Certain parts may vary according to changes in manufacturing but will always provide the same function and performance. This Kit IS ALL NEW PRODUCT. This kit has all the parts necessary for complete installation except for gas lines and cylinder regulators and quick disconnects, etc. Please see our other listing for the NPSK-12 which is the most popular 12′ hose kit and all fittings necessary to connect the EU3000i Tri-Fuel Kit to a propane cylinder. Please see our other listings for the NPSK-12 Propane tank Accessory Hose Kit Simply type NPSK-6 or NPSK-12 in the search bar at the top. Has over a 25 year record of outstanding customer service and commitment to excellence; Carburetion is all we do! The Motor Snorkel is only made in America! The item "Honda EU3000 Propane Natural Gas Tri-Fuel EU3 Generator Snorkel Conversion Kit" is in sale since Monday, July 21, 2014. This item is in the category "Home & Garden\Yard, Garden & Outdoor Living\Outdoor Power Equipment\Multi-Purpose Engines". The seller is "uscarburetion" and is located in Summersville, West Virginia. This item can be shipped worldwide.
Model: MotorSnorkel MSK3103 Kit HONDA EU3000i Engines
Country/Region of Manufacture: United States
Engine Type: 4-Stroke
MPN: Does Not Apply
Fuel Type: Tri-Fuel
Brand: MotorSnorkel